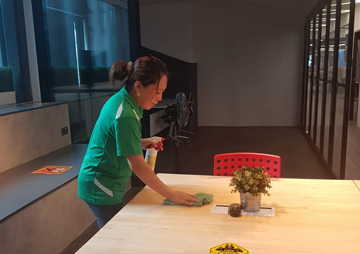 Green Cleaners is Singapore's leading cleaning service with multi-faceted cleaning solutions to meet your needs.
We offer both green and non- green cleaning agents to suit our clients preference.
During the Covid 19 pandemic our deep cleaning services have been well received as offices, shops, restaurants and gymnasiums gradually re-open for business. We have helped to ensure that premises are thoroughly deep cleaned to industry best standards to ensure health and safety of occupants and visitors alike.
Our pool of satisfied customers are impressed with our service standards including prompt response to enquiries, punctuality in appointments and very competitive rates.
We let our service delivery and results speak for themselves.
MISSSION
To provide a professional quality cleaning service at competitive rates with the aim of achieving a high level of satisfaction among our customers.
VISION
To constantly develop the standards of service delivery to our clients by our team of cleaning professional and be part of our nation's effort to upgrade the standard of the cleaning industry.